EYE AND EAR PROTECTION IS REQUIRED FOR ALL PARTICIPANTS AND SPECTATORS!
How We Run Things
WHO'S WELCOME
Anyone and everyone who's interested, regardless of experience, to shoot or just to watch. We actively recruit new shooters, but... this is NOT the place to learn to shoot a gun. We insist that you have at least SOME shooting experience.
Shooters under 18 must be accompanied by a parent or legal guardian.
THE MATCH
Registration opens at 08:00

Mandatory Safety Meeting starts at 08:50
Shooting starts at 09:00

All shooting ends at 13:00
Matches are shot on the outdoor range, regardless of weather. The firing line is covered, but not heated - wear appropriate clothing.
All ammunition must be 22 Rimfire Short, Long, or Long Rifle.
(Note: 22 Shorts may not be powerful enough to knock over some targets; use 'em at your own risk.)
Any sights are allowed. The sights you choose will partially determine the Division you compete in. (See DIVISIONS below.)
Slings are allowed.
The MATCH will be shot in several RELAYS, each of which consists of two ROTATIONS, with each rotation having five STATIONS, and each station having eight TARGETS, for a total of 80 shots per relay. Relays are shot in SQUADS of 15 shooters - first come, first served. (i.e. The first 15 shooters to sign up will shoot in the first squad, the next 15 in the second squad, etc.) Since a squad of 15 shooters should be able to complete a relay in 55 minutes, a new relay will start about every hour.
Once a shooter has completed a relay, they may sign up to shoot the next available relay.
In order to reduce confusion and allow sufficient time and attention to detail, shooters who are guiding a Junior shooter through the course of fire may not shoot in the same relay as the Junior. A shooter will be allowed to guide only one Junior in each relay.
Each 8-target station must be completed in 15 seconds. Juniors are NOT limited to 15 seconds; they are allowed as much time as they need to get off their eight shots.
DIVISIONS
We will have 15 divisions - five iron sighted, five scope sighted, and five Red-Dot sighted:
IB = Iron-sighted Bolt-Action
IL = Iron-sighted Lever-Action
IP = Iron-sighted Pump
IS = Iron-sighted Semi-Auto
IH = Iron-sighted Handgun
SB = Scoped Bolt-Action
SL = Scoped Lever-Action
SP = Scoped Pump
SS = Scoped Semi-Auto
SH = Scoped Handgun
RB = Red-dot Bolt-Action
RL = Red-dot Lever-Action
RP = Red-dot Pump
RS = Red-dot Semi-Auto
RH = Red-dot Handgun
Any division with at least one shooter will be recognized.
Juniors will compete in separate corresponding divisions.
Each shooter may shoot a RELAY in only one DIVISION, but may shoot subsequent relays in different divisions.
PROCEDURE
Each shooter will go to the line starting at Station 1. Once the shooter completes Station 1, they will move on to shoot Station 2, and a new shooter will take position at Station 1. This will continue, with shooters moving up one Station and adding each new shooter at Station 1, until each shooter has shot all of the stations. There will be no break between the last shooter in the rotation and the first shooter of the following rotation. Once all registered shooters have shot all five stations twice, the relay is complete.
All shots are taken standing offhand. Junior shooters (under 17 years old) may use a rest.
ALL MAGAZINES WILL BE LOADED WITH EIGHT ROUNDS ONLY.
Shooters should have enough magazines or speedloaders to shoot an entire relay of five stations.
SCORES
All relays shot on the same day will be included in the match, and scores will be ranked by Total Hits within each Division for the entire match. Results should be posted on this website within a day or two, and will be on display at the next match.
RANGE COMMANDS
SHOOTERS WILL DO NOTHING AT THE FIRING LINE EXCEPT BY COMMAND OF THE RO (Range Officer)

"CEASE FIRE"

or

"CEASE FIRE - MAKE YOUR GUN SAFE"


Shooters will cease fire IMMEDIATELY and make their gun safe - unloaded with magazine out.

"SHOOTERS MOVE TO THE NEXT STATION"


Shooters will move to the next shooting station.

"SHOOTERS RESET TARGETS"


Shooters will reset the target rack they are stationed at.

"SHOOTERS LOAD AND MAKE READY"


Shooters may load their guns - including chambering a round - and get ready to shoot.
When ready, the shooter will assume the "Low Ready" position. "Low Ready" for long guns is butt to shoulder and muzzle pointed downrange at approximately 45 degrees below horizontal. (Juniors may use a rest.)

"IS THE LINE READY?"


If the shooters are ready, they need do nothing but remain at the Low Ready position.
If any shooter is NOT ready, they should let the RO know.

"THE LINE IS READY... STAND BY"

.
One to three seconds later, the start signal will sound. At that time, the shooter may raise their gun and commence firing. When the horn sounds a second time, all shooters (except Juniors) will cease fire immediately and make their gun safe - that station is complete. Any round fired after the second signal may result in a reduction in score of one point for each shot fired late.
LOCAL SAFETY RULES
Any round fired over the berm - accidentally or otherwise - will result in an immediate Match Disqualification. Shooters receiving a Match Disqualification are prohibited from any subsequent shooting on that day.
COST
$6.00 for CPF&G members (All day) --- $8.00 for non-members (All day) --- Juniors (under 17) shoot FREE.
TARGETS
Targets are set at 25 yards.
SOME OF OUR TARGET RACKS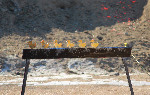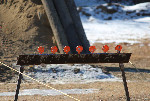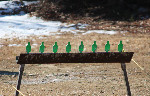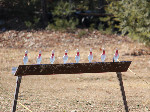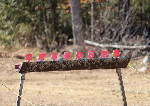 TAG TEAM MATCH
Shooters who wish to participate will be divided into five-person teams. Teams will be determined by drawing tokens from a hat. Each team will line up on the firing line, with each shooter having an open and empty gun and one or more magazines loaded with five rounds each. At the signal, the first shooter will load and engage the targets of their choice, knocking down as many plates as they can with their five rounds. The shooter will then drop their magazine, clear their gun, and "tag" the next shooter in line. The next shooter will then load and fire, also knocking down as many plates as he or she can with their five rounds. Each shooter will repeat the sequence until all 40 targets are down. If the last team shooter empties his gun and there are still targets left standing, the sequence will move back to the first shooter in line, and continue as necessary. The team with the shortest time wins.